100% Off Udemy Course Free Coupon Code Learn to Build Twitter Bots With Python Django and Tweepy Free Course: Hands-on course on building Twitter bots using Tweepy python library and Django. This course will equip you with skills in building Twitter bots that will help you build a following on Twitter for business or fun.
You don't need any prior skills as I will take you through the process of creating Twitter developer accounts, Installing the python Django framework, Installing the Tweepy library, and using the Tweepy library to build bots on the python Django framework and PostgreSQL database.
Learn Twitter Bots With Python Django and Tweepy Free with Udemy Course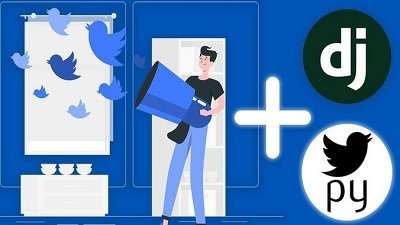 I will show you how to build a like tweets bot based on two filter parameters: Good keywords and bad keywords. If there is any good keyword in a tweet my bot will like the tweet and if a tweet will have both good keywords and bad keywords then it will skip liking the tweet. Udemy free online courses with certificates.
I will also take you through the retweet tweets bot that has the same behavior as the like tweet bot. You will also learn how to send a welcome message automatically to new followers. The bot will not send a welcome message to old followers.
Get Online Courses For Free Direct on Telegram and Whatsapp
Learn About:
How to access Twitter API using Tweepy library
How to create a Twitter bot on the python Django framework
Tweepy methods
How to like tweets using Tweepy
How to retweet tweets using Tweepy
How to send a welcome message using Tweepy
Requirements:
No programming experience is required. You will learn everything you need to know
Important: Udemy Free Courses are Showing as Paid Courses: Solution Here
Learn to Build Twitter Bots With Python Django and Tweepy Free Course